TuneSpan
Your iTunes Library on multiple drives.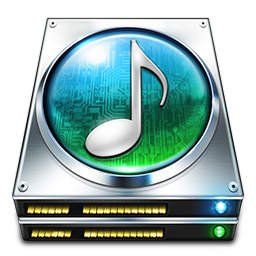 IMPORTANT MACOS 10.15 CATALINA NOTES:
TuneSpan DOES NOT currently support the new Music, TV, Podcasts, and Books apps in Catalina.
While future functionality may be possible for the new Music and TV apps, it isn't possible for Podcasts or Books.
Unfortunately I'm not yet certain if or when I'll be updating TuneSpan to support Catalina.

Spanned Music, Movies, and TV Shows will be properly migrated to the new Music and TV apps.
This means that the files will stay right where they are in their spanned locations and the new apps will play them properly.

Spanned Audiobooks will be copied to the new Books app storage location at "~/Library/Containers/com.apple.BKAgentService/Data/Documents/iBooks/Books/Audiobooks/" on internal drive.
Spanned copies of these files will be left behind in the Span Location.

Regretfully, it appears the new Podcasts app is unable to find spanned Podcasts on its own.
When you play a spanned Podcast, you will be prompted to locate it manually.
In this dialog, you will be able to navigate to your Span Location to play the file.

IMPORTANT NOTE BEFORE UPDATING TO CATALINA:
Because of how the new Podcasts and Books apps handle their media files in macOS 10.15 Catalina,
I would recommend using TuneSpan to restore all Podcasts and Audiobooks to the default iTunes Media folder BEFORE updating to Catalina.
TuneSpan Scripting Documentation & Pre-made Scripts for TuneSpan